Tak and the Power of Juju and its characters have appeared in multiple other games.
Playable Characters and Levels
Edit
Tak was a playable character in Nicktoons: Attack of the Toybots, and both Tak and Traloc were playable in SpongeBob SquarePants Featuring Nicktoons: Globs of Doom, in addition to the Pupununu Village being a playable level. Tak was also a playable character in Nicktoons Basketball and the Burial Grounds was a playable level.
Tak made a cameo appearance in Rugrats: Royal Ransom, a game developed by Avalanche Software (developers of the original Tak trilogy). In "Ready, Set, Snow!" he is on a mountain, waving at the racers.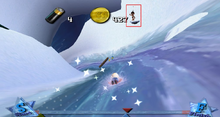 He also appears in Rocket Power: Beach Bandits, on a poster that says "Tak: Coming 2003", and in a forest level. If the player is to bother him or move too close to him, he will run away. What's interesting is that Rocket Power: Beach Bandits wasn't even made by the same developer as the Tak series. These cameos happened a year before Tak and the Power of Juju's release in order to promote the game.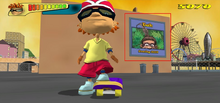 Trailers in other Nickelodeon Games
Edit
Trailers for the original trilogy of Tak games can be found in various Nickelodeon Games released in 2003, 2004 and 2005.
In 2003, a trailer for Tak and the Power of Juju was viewable in:
Edit
SpongeBob SquarePants: Battle for Bikini Bottom (GCN, Xbox, PS2)
Fairly Odd Parents: Breakin' Da Rules (GCN, Xbox, PS2)
Jimmy Neutron: Jet Fusion (GCN, PS2)
In 2004, a trailer for Tak 2: The Staff of Dreams was viewable in:
Edit
The SpongeBob SquarePants Movie (GCN, Xbox, PS2)
Fairly Odd Parents: Shadow Showdown (GCN, PS2)
Jimmy Neutron: Attack of the Twonkies (GCN, PS2)
In 2005, a trailer for Tak: The Great Juju Challenge was viewable in:
Edit
SpongeBob SquarePants: Lights! Camera! Pants! (GCN, Xbox, PS2)