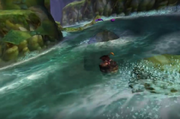 Bedlam Falls is a location in Tak 2: The Staff of Dreams. In this level Tak and Jibolba ride down the falls in a barrel received from Belly Juju.
Description
Edit
The falls originate from Wetstone Lake and lead to Greenheart Forest. There are many tall, steep waterfalls along the river. The water is also very rough and has a few whirlpools. These features give the falls their name.
This level shares it's background music with Woody Arena.
A minigame in the Dinky Temple called "Barrel Blitz" takes place in this level.
Appearances
Edit