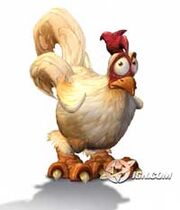 Chickens
are small usually flight-less birds. In the Tak series, Chickens do not have a large role, but are ocassionally necessary to complete certain objectives. In the original games, chickens could be smacked around, and usually ran away. However, Chickens can attack.
Tak and the Power of Juju
Edit
In the original games, chickens don't have a role except for on Chicken Island. Here chickens are worshiped, and Tak is attacked by the villagers. Then, there biggest role is in Chicken Temple, where Chickens are everywhere. To get higher in the temple, Tak must get Chicken Eggs and cook them. However, when he grabs an egg, every chicken in the area attacks. Luckily, there is always a path to quickly get by them.
Tak 2: The Staff of Dreams
Edit
Chickens appear in two minigames in the Dinky games. They appear in "Chuckin' chickens" and "chicken tennis."
Tak: The Great Juju Challenge
Edit
Chickens also appear in the third installment of the series. Here, on certain side-quests you could beat chickens to get recipe cards. They do not appear otherwise.
Television Series
Edit
Tak and the Guardians of Gross
Edit
In this game, chickens only appear in the Pupununu Village tutorial level. They can be seen in coups in the village and have no role.
External Links
Edit
To learn about real Chickens, go here
Appearances
Edit