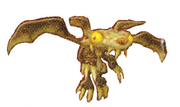 Flying Nerbil
were a variation on the Nerbil Enemies. They are a darker yellow color, and have large bat wings. They are the same size as the basic
Nerbils
, and were just as strong, and required the same amount of hits to kill. They made a fast screaching sound similar to the other Nerbils, but it was more distinct. They first appear in
Upper Tree Village
, the higher and more challenging portion of
Tree Village
, and would appear on and off afterwards, with an abundance located in the
Sun Temple
,
Mummy Tombs
, and Dryrock Cavern. They would tend to come fast, and would cause many problems for
Tak
. Their Nerbil Nests would hang upside-down which would be hard to destroy. One of the best ways to take them down is to use the
Spirit Strike
Juju Power
, which could take down the Nerbils, and the Nest.
These Nerbil are very bat-like, as they have bat wings, and their nests hang upside-down similar to how bats hang upside-down.
Appearances
Edit