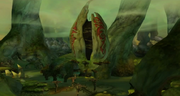 The Gloomleaf Swamp was an area far away from the Pupanunu Village. Jibolba refers to this in the middle of Woodies' home. Although it is not stated, this is probably the main hub for the Woodies. The area is a desolate swamp, full of Gator-infested water, Bees, and of course Woodies. In the middle of the swamp, there is a big arena called Woody Arena, also called the Gloomleaf Arena. The purpose is to train the Woodies, and the Woody King watches over the events.
Tak 2: The Staff of Dreams
Edit
In the game, Tak is sent to the Woody Arena Arena, after being knocked out by Woodies. With the help of Caged Juju, Tak is able to go up in the arena with Lok. After reaching the Arena, Lok is hauled off, and after six rounds, Tak uses a Woody Catapult to launch himself into the Gloomleaf Swamp. Here Tak tries to use Woody technology, such as Sheep treadmills, and animals to escape. But, before he can escape, Tak and Jibolba hear a commotion. The commotion is Woodies harassing Dead Juju, and steal his Tiki. Tak then chases after the Woodies, and eventually makes it back into the Arena, although much higher up. Here he steals the Tiki back from the Woody King, and escapes down river, being chased by Woody Soldiers in Canoes. Tak falls down the waterfall, losing the Woodies, but Lok barely makes it. They return the Tiki to Dead Juju, and the four all go together to Skyrock Crater.
Tak: Moonstone Madness
Edit
In the online game, the Gloomleaf Swamp is a course for the second and fourth tracks. It is not called the Gloomleaf Swamp, but it is the same swamp, as the Gloomleaf Arena is visible in the background.
Walkthroughs
Edit
Tak: Moonstone Madness
Edit
Caged Juju (Gloomleaf Arena)
Dead Juju
Aligators
Bees
Frogs
Sheep
Boar (Tak: Moonstone Madness only)
More than likely this is the main location of Woodies, as their arena is here, their technology is all here, and the Woodie King resides here.
Appearances
Edit