Skyrock Crater is a playable area in Tak 2: The Staff of Dreams, home to the Planetarium of JB. The area was named Skyrock Crater, as it formed when a "pieces of the sky" fell here and called out these "impressive" balls. This level is distinctive, as it contains many chunks of land, barely being held together, and many different levels of the land. There are some bonus caves that Tak can find and it can either Recipe Cards protected by Woody Shamans or a vial with ingredients inside. There were many bridges and ropes to traverse these abnormalities, but the Woodies came and destroyed these bridges. The Woodies have also taken over the area and made it challenging for Tak to traverse. As Tak approaches the planetarium, there are many generator pieces around.
Walkthrough
Edit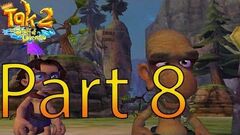 Appearances
Edit
Ad blocker interference detected!
Wikia is a free-to-use site that makes money from advertising. We have a modified experience for viewers using ad blockers

Wikia is not accessible if you've made further modifications. Remove the custom ad blocker rule(s) and the page will load as expected.