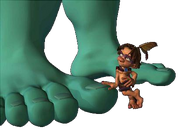 Tak: "Let me go!"
The Giant Misunderstanding: "Your name is Moe? Why Hello, Moe!"
―Tak to The Giant Misunderstanding, after Tak gets stuck in-between his toes.
The Giant Misunderstanding was a Juju introduced in Tak 2: The Staff of Dreams. He is a green giant whose body can only be seen up to his knees. He is voiced by Rob Paulsen.
Tak 2: The Staff of Dreams
Edit
Tak summoned him to help him reopen the Rift that Pins & Needles escaped in. But, Tak had troubles, as The Giant Misunderstanding could not hear what Tak was saying down there, and what he heard, he confused with other words. This causes a long argument with Tak and the Juju, where Tak yells but yet, the Giant Misunderstanding makes stuff that sounds like what Tak says. Tak finally gets help when the Juju summons Rick, who suggests that he should ask to talk to Rick. Upon doing this, The Giant Misunderstanding opens up the rift, which Tak wanted all along. In the end, The Giant Misunderstanding sings a song and dances, as Tak leaves.
Tak: The Great Juju Challenge
Edit
In Tak: The Great Juju Challenge, like many other minor characters, The Giant Misunderstanding is seen in the background of the opening scene, thusly making his actual final appearance.
In the Television Series, Feet Juju appears to be The Giant Misunderstanding, but blue instead. It should be also noted that Feet Juju dances, similar as to The Giant Misunderstanding.
Appearances
Edit
Ad blocker interference detected!
Wikia is a free-to-use site that makes money from advertising. We have a modified experience for viewers using ad blockers

Wikia is not accessible if you've made further modifications. Remove the custom ad blocker rule(s) and the page will load as expected.